Enhance current services and create new revenue opportunies.
Print buyers are tech savvy marketing minds and they want their printers to be as well. Your clients (AKA marketers) wear many hats, multitask and do not understand analog processes, they understand automation, simplicity and the ability to work from anywhere they go.
Traditional web to print systems no longer meet the needs of the current generation of marketers, they are being replaced with comprehensive marketing portals which offer web-to-print services but also much more (see marketing portal features below).
Consolidate all marketing products into one marketing portal
Simplify how users access, find, personalize and order marketing assets
Maintain brand integrity across your entire marketing portfolio
Ensure budgets align with other corporate goals
Protect and control your inventory
Enforce approval workflows to ensure compliance
Manage all vendors from one centralized portal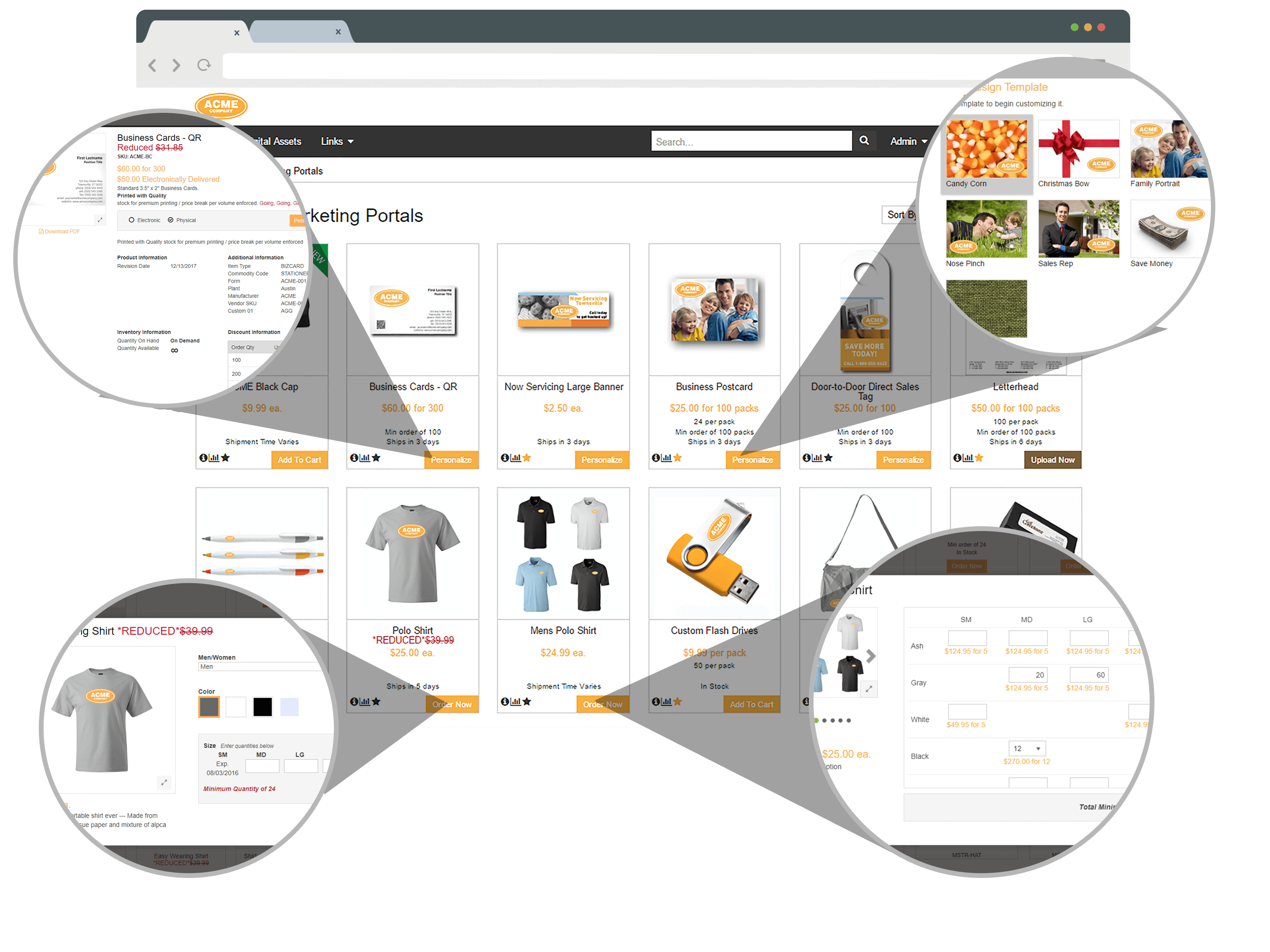 Delight End Users
Provide users with a platform that allows them to quickly find, personalize and order the materials they need to promote the brand. No more jumping through hoops with multiple places to get marketing assets.
Provide Piece of Mind
Providing an online solution to 100's, 1000's or even tens of thousands employees can be a daunting proposal for anyone tasked with maintaining the brand or budget. With Propago you have the tools at your fingertips to ensure the budget, brand and inventory is protected at all times.
Eliminate the need to pay for two-three additional systems to handle demand.
Propago provides the tools to efficiently manage the demand generated from any marketing program. Seamlessly mix different production methodologies such as; Print on Demand, inventory pulls, dynamic kitting, procure on demand and much more. Connect to an unlimited amount of partners in order to provide a complete solution.
Complete Inventory Management and Visibility
Robust Serialization and Lot Tracing Features
Robust Visual Dashboards and Reporting
Streamlined Pick, Pack and Shipment Workflows
Multi-Location/Warehouse Support
High Volume Fulfillment: Consolidation, Batching & Fast Picking
Simple Integration with Carrier Manifesting Systems
Seamless RMA Module for Returns Management
FIND OUT MORE TODAY!
Propago's web2print portals allows anyone to bring operations online, making it simple for anyone to order what they need when they need it.