User Experience Controls
Flexible and granular user control is a necessity in today's enterprises. You may want to display different products to different users, have some groups pay for items while others receive for free and much more! With Propago's user controls you have the ability to control access levels on a per user basis or across a group of users.
There is no limit to how many subsets of control each customer can have. You may choose to have a single layer of control where everyone can see the same thing and have the same checkout experience. You could also decide to define specific products, prices and views to specific users in your organization.
Below is a sampling of the controls you can enforce:
Ability to show/hide inventory

Ability to show/hide pricing

Enforce Spending limits

Sales tax enforcement

Shipping carrier and service availability

Required/Available payment methods

Access to administrative features
Branding Controls
Keep your brand intact while giving sales representatives, creative teams and affiliates the freedom to personalize marketing assets with messages that best resonate with prospects and clients. Branding controls allow you to lock-down creative elements such as logos, taglines, images and text so branding is always consistent across different marketing channels.
Budget and Inventory Controls
Configure budget controls to manage spending more effectively. Spending limits can be set either by user, user-group, product, or combinations of them all. These limits can be combined with quantity thresholds or different time frames to ensure the storefront is aligned with corporate goals.
Spending Limits

Order Quantity Limits

Min/Max Order Quantities Limits

Dollar/Quantity Thresholds
Approval Hierarchies
Build approvals hierarchies to make sure users are only ordering what is allowed. Each user in the system can be assigned a mix of approving level requirements. Whether it is a single approving manager or a few, the order will not go through until it has been approved by everyone.
Payment Options Controls
You control what payment methods are accepted. The system is compliant with all major credit cards, purchase orders, and flexible invoicing. It can also support more advanced features such as co-op dollars and promotions.
Credit Cards

Purchase Orders

Deferred Billing

Co-op Dollars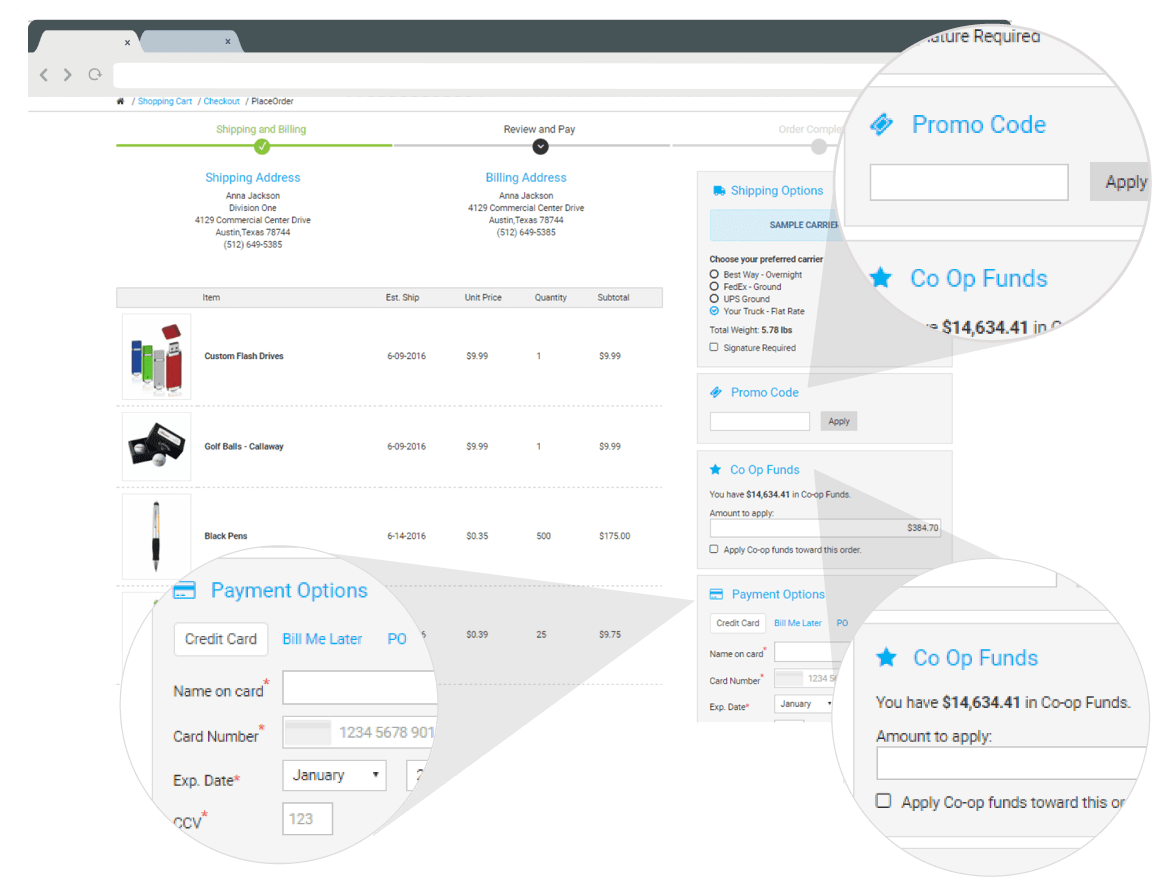 Contact Us
Let's discuss how our Marketing Management Platform will make your life a whole lot easier.